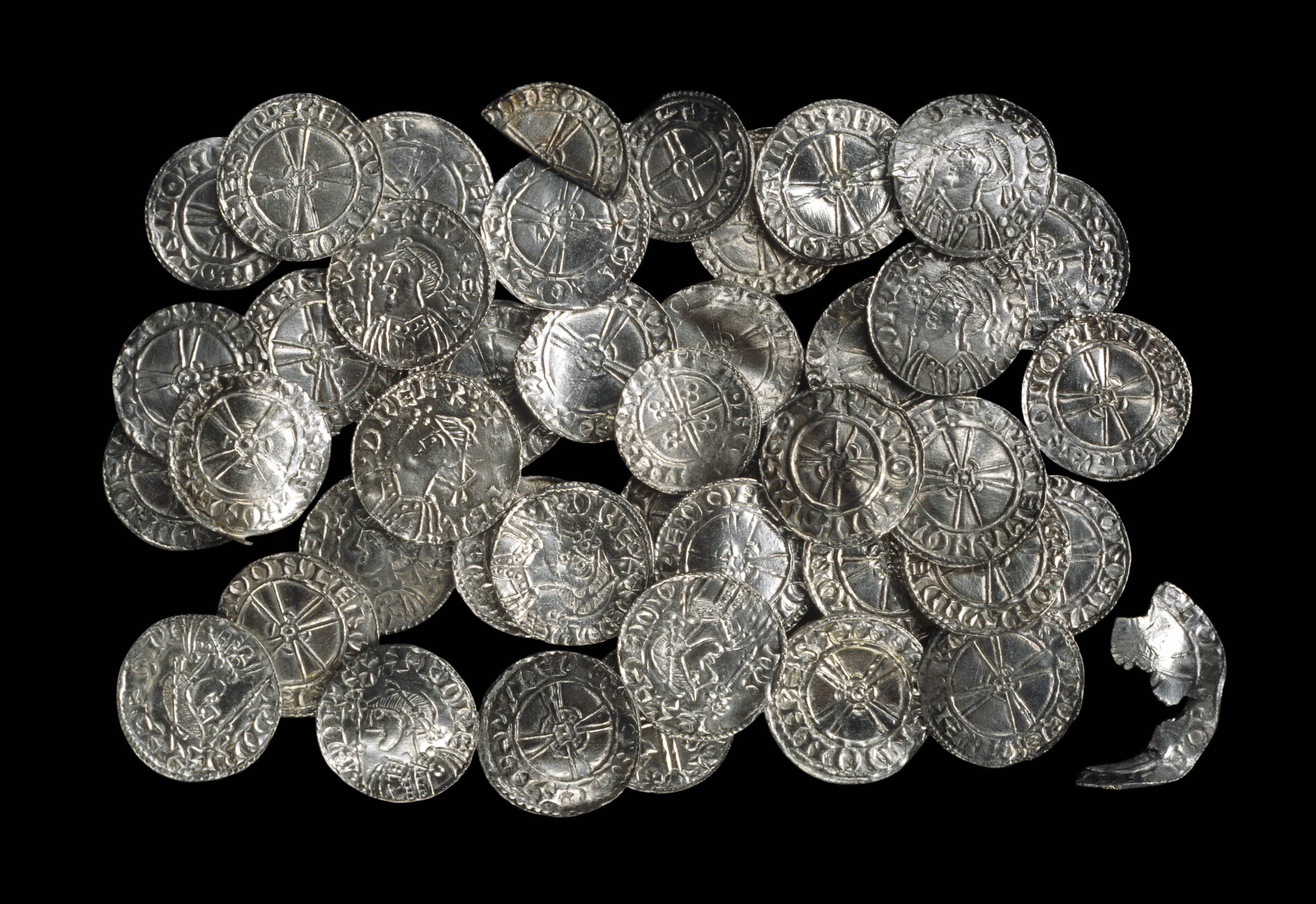 Anglo-Saxon, buried AD 1051-52 From Appledore, Kent, England
In August 1997, metal detectorists Phil Collins, Bert Douch and Laura Dickinson discovered a hoard of nearly 500 Anglo-Saxon coins near Appledore in Kent.
The coins were found together with fragments of pottery, thought to be of the pot in which they were stored. The pot of coins appears to have been preserved intact until recently disturbed by ploughing. All but a few of the coins are of the 'Expanding Cross' type of King Edward 'the Confessor' (reigned 1042-66).
The hoard was probably buried around 1051-52. The hoard contains coins from thirty-four different mints all over England, but over half the coins came from the mint of Canterbury. The hoard also contained the first known coins of the type from the smaller mints of Romney and Sandwich, and the first known coin of the moneyer Edric of Winchester.
The hoard may have been buried during the rebellion of Earl Godwine of Wessex. At the time, the estate of Appledore was owned by the archbishop of Canterbury, one of Godwine's most powerful enemies. The hoard was worth around a third of the annual value of the estate.
Notes:
S. Lyon, 'The 'Expanding Cross' type of Edward the Confessor and the Appledore (1997) hoard', Spink Numismatic Circular, 106: 10 (December 1998), pp. 426-28
G. Williams, 'A further parcel from the Appledore hoard', British Numismatic Journal-2, 68 (1998)
G. Williams, 'A hoard of 'Expanding Cross' pennies from Appledore: preliminary report', Spink Numismatic Circular-1, 106: 4 (May 1998), pp. 152-53
D.M. Metcalf, An atlas of Anglo-Saxon and No (London, Royal Numismatic Society, 1998)
Image ©Trustees of the British Museum.