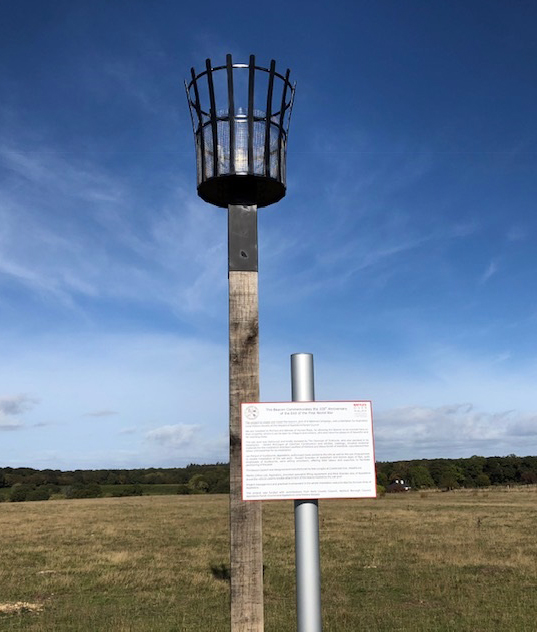 This Beacon Commemorates the 100th Anniversary of the End of the First World War.
The sign now placed in front of the Beacon reads:
The project to create and install the beacon, part of a National Campaign, was undertaken by Appledore Local History Society at the request of Appledore Parish Council.
We are indebted to Michael and Belinda of Hornes Place, for allowing the beacon to be erected here on their property, where it can be seen by villagers and visitors, who also have the pleasure of beautiful and far reaching views.
The oak post was kindly donated and fashioned by Tim Donovan of Ticehurst, who also assisted in its installation. Gerald McGuigan of Coleman Construction and Utilities – Hastings, donated essential materials for the installation and Paul Caulfield of Ashford and Steve Smith of Hothfield, volunteered their labour and expertise for its installation.
Jon Pollard of Gusbourne – Appledore, authorised ready access to the site as well as the use of equipment to facilitate installation of the oak post. Russell Ovenden of Icklesham and Darren Apps of Rye, both employees of Gusbourne, were willing volunteers offering their labour and expertise to facilitate the installation.
The beacon basket was designed and manufactured by Rob and Wendy Longley of Cranbrook Iron – Hawkhurst.
Local resident Martin Clifton provided specialist lifting equipment and Mick Standen of Appledore drove and manoeuvred the vehicle used to enable installation of the beacon basket.
Project management and practical involvement in the whole installation was provided by Duncan Gray of Appledore.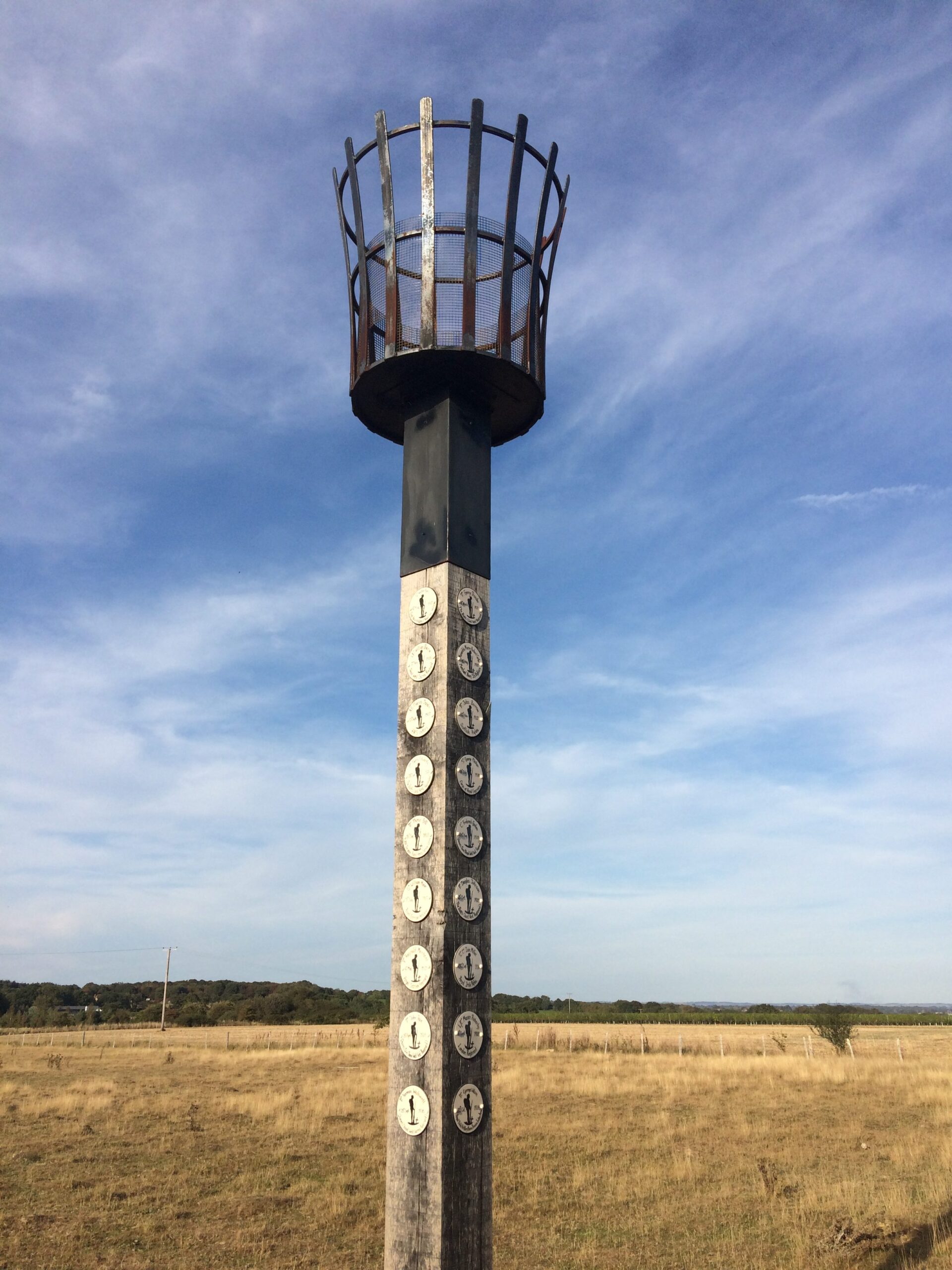 The project was funded with contributions from Kent County Council, Ashford Borough Council, Appledore Parish Council and Appledore Local History Society.
In the Autumn of 2019 shields were attached to the Appledore Beacon. Each shield commemorates a soldier lost from the village during the two World Wars. They were expertly crafted and gifted by Beverley Gray, an Appledore resident and talented potter. The names of the fallen can be found on memorials in both St Peter and St Paul Church and in the Methodist Chapel Click here for more information.