WW2
Entered onto this page is a leaflet produced by the ALHS some time ago ALHS Leaflet;
The table below describes various buildings along the Street and how they were used during WW1 in comparison to WW2.
| | | |
| --- | --- | --- |
| | WW1 | WW2 |
| 8 The Street | Used as a private convalescent hospital | Busy selling bread and cakes and serving the troops |
| 22 The Street, The Fortall | Home of Ian Millar who dies during WW1 | Requisitioned by the Army, full of troops |
| The Methodist Chapel | Soldiers during WW1 may have attended Sunday School here | Housed the canteen for the troops |
| Village Hall | WW1 Howitzer Shell now attached relating to the sale of WW1 War Bonds | Extensively used by the Army as a cookhouse and lecture room |
| The Swan | Restricted service during wartime | Busy, especially with the troops |
| Averys | A general store and also housed the Post Office | Still a general store |
We are lucky to have a transcript of the diary of a Dorothy Johnston of Hall House Farm in Appledore spanning 1938-1945. Just from reading the first few pages we get a sense of what is to come for Appledore for the next few years;
Gas masks were provided in September 1938,
May 1939 there were lectures on gas poisoning and in July the First Aid Post was organised,
August 1939 people were busy darkening their curtains for blackouts
267 children had been allotted to Appledore, who started arriving in September 1939. The first to arrive were 75 mothers with their children from Catford.
September 1939 ration books were issued for petrol and food…..
Reading the last few pages from early 1945, things were beginning to relax;
February 1945 the blackout curtains were being taken down,
March 1945 the Land Girls were removing barbed wire from the fields,
April 1945 electric drills were being used to remove the concrete blocks from the road and indoors the china cabinet was turned around to face into the room and some pictures were hung up on the walls,
May 8th 1945 V.E. Day, which began with bells being ring at 7a.m. Flags were put up in the village and the church was full for the 7p.m. service,
May 9th 1945 there was a meeting at the Parish Hall to discuss welcoming back home the men and women of Appledore,
August 15th 1945 V.J. Day, with more bell ringing, by Albert Fowle, Sydney Fowle, Charles Bourne, Charles Marchant, Richard Rivers, Albert Brown, Frank Terry, Edwin Boorman
There was a bonfire on Mill Hill in the evening and then another the next day on the cricket field.
The Roll of Honour in St Peter and St Paul for WW2 is as expected, due to more mechanisation used during WW2, shorter. There are 8 men named here, photographed during the 2017 Flower Festival;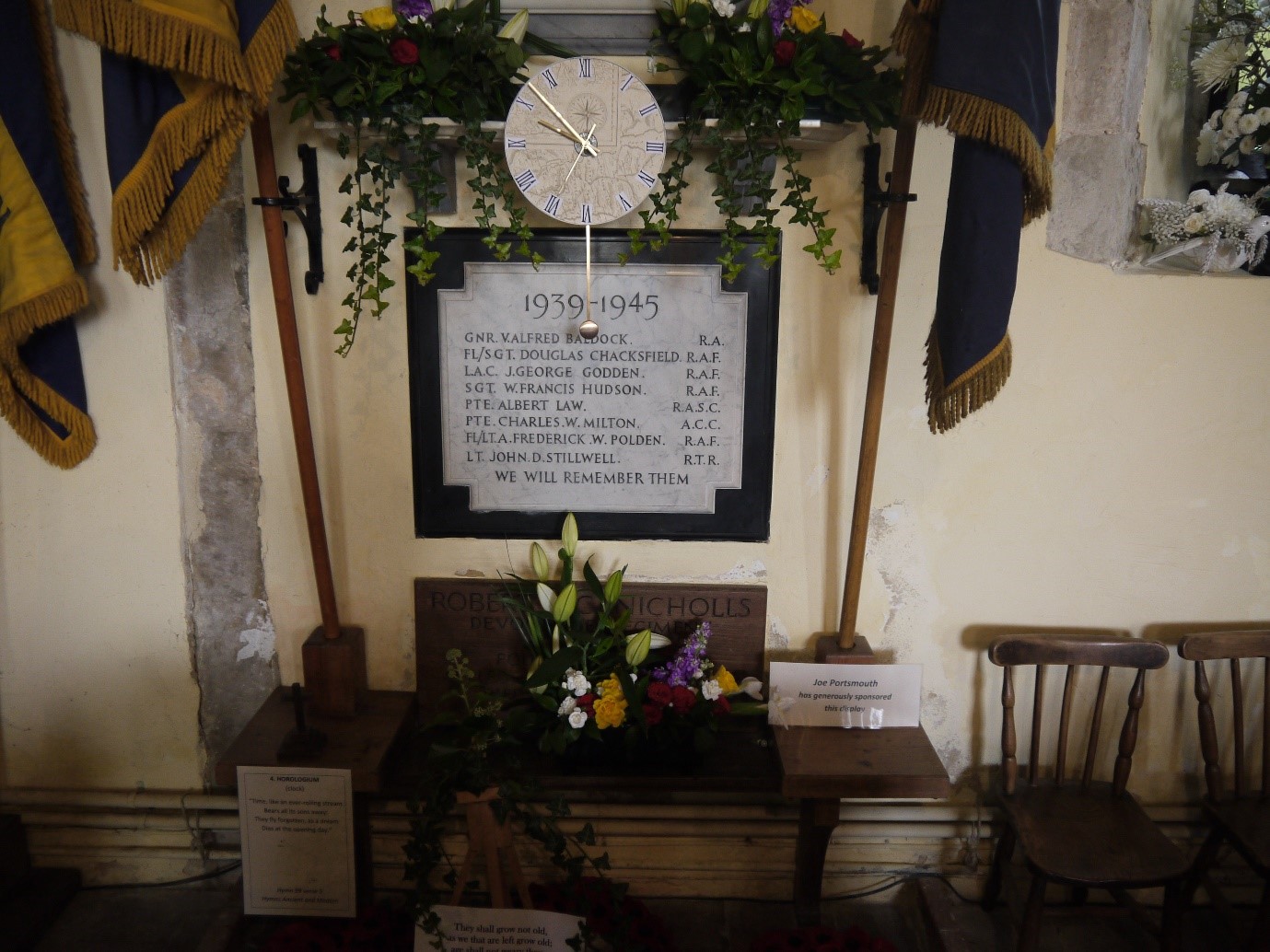 From the Honour Roll, it would appear that only two (Douglas Chacksfield and Charles Milton) have graves in the St Paul and St Peter Church cemetery;
Victor Alfred Baldock – died 2.9.1943 aged 35. He was a Gunner in the Royal Artillery, Field Regiment. He is commemorated at Chungkai War Cemetery, Thailand. He was son of William James and Elizabeth Baldock, husband of Elizabeth Frances Ivy Baldock.
Douglas Geater Chacksfield – died 5.10.1942 aged 26. He was Flight Sergeant in the R.A.F. Volunteer Reserve. He is commemorated at the Alamein Memorial, Egypt. He was son of Willian and Louise Chacksfield, husband of Marjorie Chacksfield, Birmingham.
James George Godden – died 6.4.1942 aged 29. He was Lance Corporal in the R.A.F. Volunteer Reserve. He is buried at Halfaya Sollum War Cemetery, Egypt. He was the son of George Godden (above). His mother (Emma Pellett, sister of James Pellett (above)) and father married in 1912.
Francis William Hudson – died 26.8.1944 aged 21. He was a Sergeant (Navigator) in the R.A.F. Volunteer Reserve and is commemorated at Cambridge City Cemetery. He was the son of James Arthur (a postman) and Annie Florence Hudson.
Albert Law – was difficult to identify from records but we believe that he died 25.9.1944 aged 25 whilst serving under the R.A.S.C.
Charles William Milton – died 7.1.1943 aged 27. He was a Private in the Army Catering Corps attending the Royal Artillery. He is commemorated at Brookwood 1939-1945 Memorial. He was son of Herbert Frederick and Ethel Milton and was husband to Gladys Irene Milton.
Albery Frederick (Frank) West Polden – died 7.3.1945 aged 32. He was Flight Lieutenant (Navigator) with the R.A.F. Volunteer Reserve. He is commemorated at Becklingen War Cemetery, Germany. He was son of Samuel Jacob and Frieda Polden, husband of Phyllis Ellen Polden of Lower Shiplake, Oxfordshire.
John D Stillwell – died 5.12.1941. He was a Lieutenant in the 44th Royal Tank Regiment R.A.C. he is commemorated at the Alamein memorial, Egypt. He was the son of Clarence Digby and Fanny Sarah Stillwell, husband of Janet Cecile Stillwell of Kenardington.
As well as this Roll of Honour there is evidence of WW2 around Appledore, including a shelter still in existence in the grounds of Saxon House, pillboxes along The Royal Military Canal and sections of the Pluto pipeline.
Also changed from pre-WW1 and the end of WW2 is the appearance of the bridge over The Royal Military Canal, as this was blown up by accident on 6th September 1941 whilst checking that the charges underneath were safe! Sapper Perry was the culprit there and did sustain injuries and some windows were damaged in the village. The bridge was rebuilt by No 3 Section, 501 Field Regiment, Royal Engineers in Sept 1941.