Col Herbert Charles Jenkins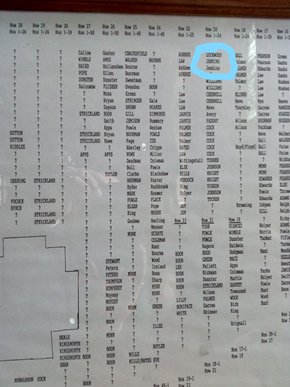 Row 20, position 2, in St Peter and St Pauls Churchyard. Aim to the left of the church keeping to the left-hand boundary. About 6 rows from the rear wall of the church. This grave was covered in brambles but is now clearly visible.

This grave is shared with his first wife, Marguerite Valentine, who died in 1901 aged 44, and his second wife, Wilhelmina (Minnie) Jenkins. Photo – close up of writing for Marguerite and Herbert, Minnie engraved on adjoining left side of base.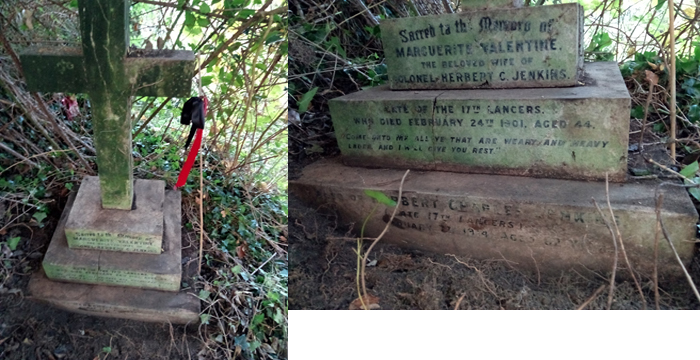 Minnie arranged for the window of dedication to Col Jenkins, who died aged 62 in 1914, and also to their nephew, Captain Millar, who died in WW1. Photo – two separate panes to be read left to right. This window is listed on the IWM inventory of war memorials.
Col Jenkins served in the 17th (Duke of Cambridge's Own) Lancers and was severely injured (his jaw was shattered by a bullet) at Ulundi (Zulu capital), 4th July 1879, for which he received a medal with clasp. The Battle of Ulundi was the last major battle of the Anglo-Zulu War.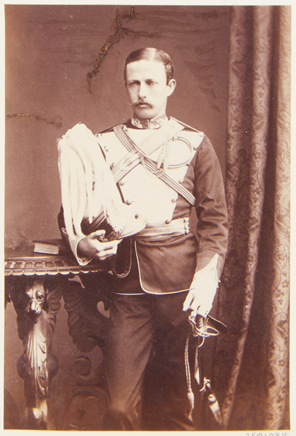 There is a photo of HC Jenkins appears on the Royal Collection website on www.rct.uk/collection. Photo – of Col Jenkins (as a Lieutenant) copyright Royal Collection.
Further information, seek Tim Needham of www.zuluwar.com.